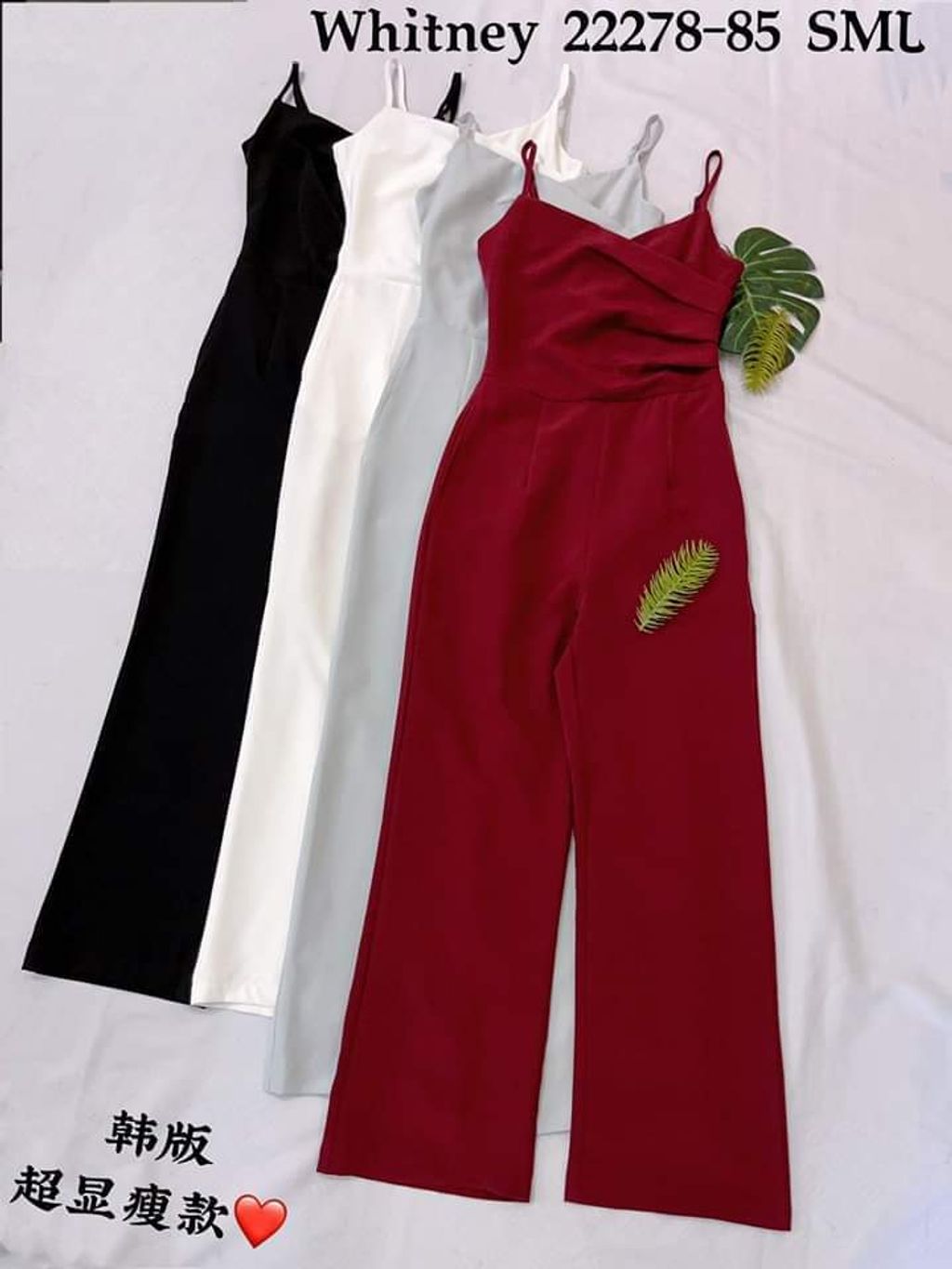 22278 New Arrival , Premium Quality Jumpsuit
Thick and good material , back zipper ,
Adjustable strap , Brand Whitney
Postage
Postage to west malaysia if purchase not more than rm 150 is RM8.50
postage to east malaysia if purchase not more than rm 250 rm 12.50
Note :
Please allow 20-30% discrepancy in the product color due to lighting and monitor resolution (actual may appear darker/brighter). In such cases, the variance may not be considered as a defect.
There might be 2cm -4cm differences in the measurements given due to the different stretchable quality of the material and the way measurement is taken.
You are adviced to check the given measurements with your existing dresses for best fit. Measurements for every dresses is different.

care
All items should be hand wash with mild detergent using cold water. Do not soak. Hang dry.
Wash dark colors separately and iron under low heat.
- 手工测量难免会差2~4cm哟

● 衣服測量方式不同,可能會誤差2~4cm屬正常範圍

毕竟一批货内我们只是拿其中一件出来测量- 不接受无理退货 (例如:不适合;不好看;不喜欢)
完美主义者请考虑好再下单哦,谢谢

●我们只接受换size,不接受换款式

- 收到包裹后如发现有问题请在3天工作日里面找我们哦,逾期一律不负责哦

- 衣服有问题 : 如果我们让亲寄回来请亲在5天工作日里面寄回来,逾期一律不受理哦

如逾期,就算收到货了,我们也会照旧寄回给亲哦(邮费自付),不负责哦●脱线能缝的回去,不接受退换(如果坚持退回来邮费我们不负责哦)●颜色方面,每个人的电话看到的颜色是不一样的哦,不接受退换哦
●换size邮费一律自付(西马rm8.50 , 东马rm12.50)
●如果助理让亲寄回来,请确保牌子还在哦
●洗过一律不接受退换哦,不好意思
●邮费方面如果需要claim,必须出示单据,没有单据一律没得claim哦,谢谢你的合作

- 有不明白,不清楚/ 订单有错误有问题一律可以call我们询问哦

西马3天内,东马5天内没有收到包裹也可以询问我们哦,越快越好,避免包裹出现问题哦


06 7609 763- 为了避免不必要的争吵,请读好以上的条规,你汇款表示亲已经接受并愿意遵守我们公司的条规哦

购物愉快

■你汇款了表示你已承认以上是您的订单,谢谢合作